The only perfect in the world is nature. New Advanced ANC earphones by B&O for travelers are just ideal. Excellent in its premium class. There is no long flight for its battery, no noise they can't block.
We believe that one of the best ways to enjoy your favorite songs or just silence when you are traveling is through the premium quality noise-canceling headphones.
Advanced ANC technology literally turns the world off around you and it is done to make sure you get nothing but perfect sound or an excellent quietness – your choice.
This particular premium ANC headphones are good for traveling, airplanes, and sleep. They block out noise and enable you to listen to your music in peace. There are several high-quality noise deadening headphones available on the market, and we picked up the best exceptional ones. We have picket some the best on the Canadian market with links directly directly to the produces website.
Let's look at the top 5 ANC headphones for your 2022 journeys
Bang and Olufsen BeoPlay HX
Bang and Olufsen is a high-end Danish speaker making company which is more commonly known as B&O. The company has a reputation for high quality, premium products, and the B&O headphones are no exception. Their recent ANC headphones called BeoPlay HX is just amazing.
The over-ear headphones are very stylish noise-canceling headphones which come in natural colors (sand, maroon, anthracite and timber). The arms slide up and down effortlessly and do not produce the click sound but rather slide smoothly.
You can play music 35 hours with active Bluetooth and Active Noise Cancellation. This time extends to 40 hours if you are not using the noise deadening feature. You can buy these premium true wireless noise-canceling headphones from an reasonable price of C$549 / $499 directly at B&O homepage.
Jabra Elite 85h and Jabra Evolve2 85
The noise-canceling headphones ensure that you get the best quality music since it has eight built-in microphones. It also packs three digital onboard assistants. These features make the headphone one of the favorites for high-class individuals and will stay so in 2021.
The Jabra has very well customized listening modes which filter out background noises to give you an excellent music listening experience. In addition to the cool features, the headphones have high-quality bass output.
It weighs 10.4 ounces and can run for 36 hours with NC on and for 41 hours with noise cancelation off. It is Bluetooth enabled with a range of 33 meters. The Jabra headphones cost CA$349 on Jabra website.
Jabra Evolve2 85
Jabra Evolve2 85 is the premium headphones which can connect to your phone an laptop at the same time, is optimized for Microsoft Teams, Zoom and Mitel among others, implemented LED light to show "busytime" to in the office and has no less than 10 microphones. They are great for office work and can easily be adjusted as the microphone boom is easily hided. The only drawback is the hefty pricing at CA$642.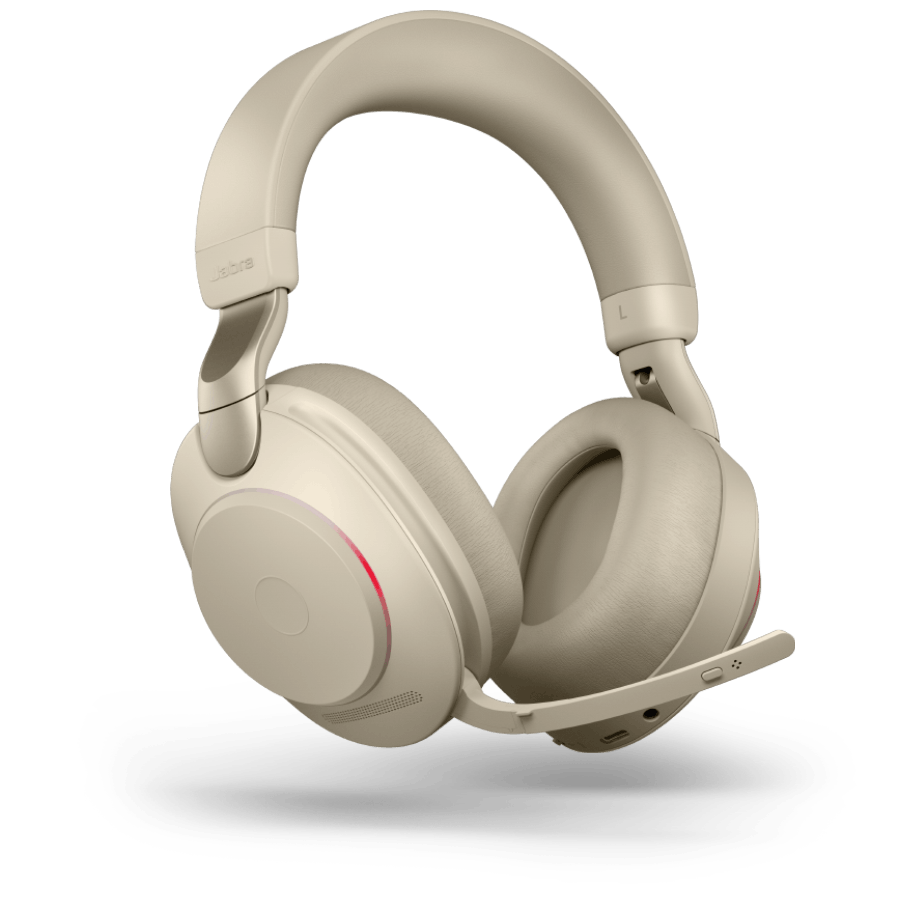 Bose QuietComfort 45
When it comes to noise-canceling technology, these headphones are among the best. The Bose QuietComfort 45 have 24 hours battery life, and its wireless range is 300 feet. It has an Action button which lets you select the best sound settings.
The sound quality of the headphones is over the top as it outputs its music in high definition. It also has pretty cool voice commands capabilities. You can receive texts, control music, and even have it read texts to you without looking at your phone. The Bose noise-canceling headphone cost CA$350 in Canada and $329 in the US.
Sony WH-1000XM4
The headphones have very advanced noise cancelation properties and a lot of sound-optimization features. It has a QN1 sound processor which helps improve its noise suppression quality. The processor also helps it achieve very high sound quality and also assist in their 360 Reality Audio. The headset also have inbuilt Voice Assistant as Alexa and Google Assistant.
Comfort and performance are the attributes of high-quality headphones. The Sony WH-1000XM4 Wireless Noise Cancelling Headphones does not disappoint on any front as they are both highly functional and very comfortable.
They weigh 9 ounces; have a battery life of 30 hours with NC on and 38 hours with NC off. That means that you can listen to your music for long. They cost CA$399 / $298 on Sony's website.
Audio Technica ATH-ANC900BT
One of the greatest features of the Audio Technica QuietPoint® ATH-ANC900BT is its ability to cancel the surrounding noise-it is truly amazing. Many Active Noise Canceling headphones have an irritating hiss, but this is not the case with these headphones.
The headphones can run for 60 hours!, are very comfortable on your ears, and the sound quality is also amazing. They also have easy-to-use controls. Its noise suppression is among the best in its category. The price of these headphones is $379.
Listening to music is an activity that helps you get through the day. You can easily switch on the music in a busy subway, airport or bus and escape to your music world. Therefore, it is important o get yourself high-quality headphones. The above list highlights the best noise-canceling headphones, and we believe that your purchasing decision will be easier.
Now it is time to explore the reopening world after 2 hard years, why not with a premium sound.